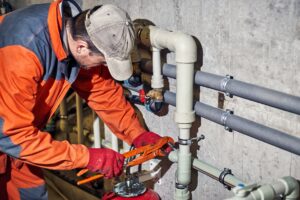 Certain repairs can wait, but others can't. Especially when you're talking about your heater. We want to outline some of the reasons your heater might be struggling right now and why they're important to address as soon as possible.
Heater repair in Phoenixville, PA should be your top priority regardless of what season it is while you're reading this blog post. At the end of the day, having a faulty heater becomes a safety concern if left unchecked.
Let's go through all the reasons that you need to get your repairs taken care of as soon as possible.
Electrical Problems
The electrical aspects of any HVAC system are imperative. When they fail, you don't just have to worry about your HVAC unit not working. There are much bigger problems at play.
When wires run hotter than they're supposed to, they can melt the plastic casing around the wires. If you've ever picked up on a slight burning smell from your vents when you turn your heater on, this could be it.
Other issues could persist that don't provide serious danger to you or your family, but still greatly impair your ability to heat your home.
If the sensors in your blower motor fan go out, the fan can spin so fast that it cools the warm air as it pushes it through the vents. That wastes electricity and makes your heater work harder to warm your home.
Thankfully, skilled technicians will inspect your heater during maintenance and ensure the integrity of all electrical components. It's one more reason why you should never skip annual maintenance appointments.
In short, there are multiple electrical connections throughout your heater. If there's any electrical issue, it needs to be dealt with immediately before it damages other aspects of your HVAC unit.
Gas Leaks
This one is pretty self-explanatory, but some people don't understand the severity of this issue. Gas leaks don't just pose a risk to your health in the event of a fire. Inhaling gas can cause asphyxia, symptomized by chest pain and general fatigue.
Even if there's no worry about ignition, gas leaks can be fatal on their own. A technician will know how to enter your home safely, shut off your gas, and find out how to fix or replace your gas lines.
Damaged Ducts
Ductwork acts as the arteries of your home, while the heater is the heart. The ductwork delivers temperature-treated air, unless your ducts are damaged.
The problem is that you don't always know when your ducts are damaged. Holes, leaks, and kinks in your ductwork can result in limited airflow and increased air resistance.
Temperature Treated air may leak into your walls and ceiling, meaning it doesn't get to the vent and warm your home. It can also result in moisture problems such as mold growth or mildew.
It's Time to Take Care of Your Heater
Everything on this list only leads to more problems if they aren't taken care of immediately. Electrical problems can lead to a fire, gas leaks can lead to an explosion–it's time to get serious about your heater repairs and call in a professional.
Contact Michall Daimion Heating & Air Conditioning, Inc. today to schedule heating repairs, or contact us for 24-hour emergency service if the problem is bad enough.