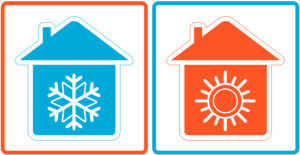 If you have some familiarity with the heat pump, then you know that the major advantage of this comfort system installation is that it can operate as both a cooling and heating system. A heat pump is similar to a refrigerant-based air conditioner: it circulates refrigerant between two sets of coils, evaporating refrigerant in one coil to absorb heat and condensing the refrigerant in the other coil to release that heat. 
What makes a heat pump different from an AC is that it can change the direction it circulates refrigerant, causing the two coils to swap functions. An air conditioner can only move heat from inside the house to outside. But a heat pump can reverse the way it runs so that it moves heat from the outside to the inside. All it takes is an adjustment on the thermostat for the cooling system to become a heating system.
But this leads to an obvious concern … does this actually work in cold weather to make a viable choice for a year-round West Chester, PA, HVAC system?