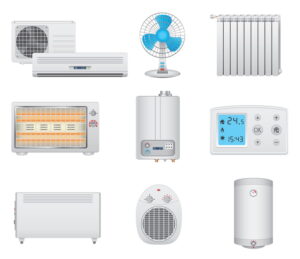 In our last post, we talked about whether the time has come for you to replace your air conditioning system. If you've made the choice (possibly with the assistance of our technicians) to install a new AC system, you now must face another question:
What type of AC will you get?
It's okay to feel confused at the question. You're probably accustomed to thinking that air all conditioning systems are basically the same, the only difference is how powerful they are. You're partially correct. Except for evaporative coolers (a.k.a. swamp coolers), which are ineffective in our climate, all air conditioning systems operate by circulating refrigerant from a compressor to move heat from a building and release it outside. 
But there are different configurations and features of air conditioners. Your central AC isn't much like a window AC, after all. You're not thinking about putting in window AC units, but you do have several options when it comes to your central cooling.
Split System Central Air Conditioners
This is likely what you currently have. It consists of an outdoor cabinet and an indoor unit with an evaporator coil and air handler to send cooled air into the home's ductwork. This is a good choice in most cases, and there is nothing wrong with sticking with the tried-and-true. Your replacement will probably have better efficiency than the old one. 
High-Efficiency Systems
Want to take a bigger leap in energy efficiency? Inverter technology allows air conditioners to modulate their capacity to maximize energy use, and they can also create better comfort with few hot or cold spots in the house. These high-efficiency systems cost more to install but can pay off their costs after a few years. Please consult with professionals about this, since a high-efficiency rating isn't an automatic guarantee of savings.
Heat Pumps
If you think your electric furnace is also at the end of its service life, you can remove the air conditioner and the furnace at the same time and replace them with a single unit: a heat pump. A heat pump is a standard split system AC that can reverse the direction it moves heat so it also works as a heating system. This is a great choice if you plan a full HVAC revamp, but not if you only need to replace the air conditioner or if you have a gas furnace.
Ductless Mini Splits
These are types of heat pumps, but the difference between ductless mini splits and standard split systems is that they use multiple indoor units rather than one hooked to ducts. Ductless systems are excellent for homes that lack space to add ductwork—so if you've been using window AC units until now, here's your answer. They can also work for point cooling parts of the house that are difficult to cool.
Our Wayne, PA air conditioning experts can help you make the best decision for your future comfort. Schedule an appointment with us to find out more.
Call Michall Daimion Heating & Air Conditioning, Inc. for new air conditioning installation. We're the Main Line's premier service provider since 1976.