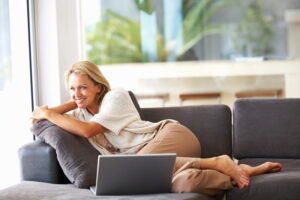 Spring is a beautiful time of year. As the snow melts, you can almost feel the cloud of winter lifting. But with greener parks and fuller trees come seasonal allergies. Irritants in the air don't just make it hard to enjoy a walk outside, they can follow you indoors too.
Luckily, there are ways to safeguard your home's indoor air quality this coming spring.
Why You Should Invest in Indoor Air Quality
Poor air quality is annoying at the best of times. Left alone too long, it can become a health risk. The US Environmental Protection Agency (EPA) lists three steps to improve a home's indoor air:
Remove the sources of pollutants
Ventilate with clean outdoor air
Supplement with filtration
If irritants are coming from the environment around you, there's no source to remove. Worse, it's impossible to ventilate with the same air you're trying to remove.
A solid filtration system offers a 3-in-1 solution. It removes indoor pollutants, cleans outdoor air before it enters your home, and regulates air quality throughout. These are the three best options going into spring.
Air Filters
Good air filters protect your home and your HVAC unit. They keep dust from entering the vents and keep irritants in the ducts from going the other way. Best of all, they work year-round while staying out of sight.
Air filters need regular care to remain effective. Trapped particles build up over time, clogging even the best filters. It's best to call an HVAC service to inspect your system early in the season.
Replacing the filters will shore up your home's first line of defense against poor air quality.
UV Air Purifier
Filters are great for large particles, like dust and dirt. Air purifiers are best for eliminating bacteria, allergens, and other microscopic contaminants. These pollutants are too small to sweep and hard to see in the air.
If you don't want to risk opening the door to ventilate, consider a UV air purifier in Newtown Square, PA. These units are a part of your HVAC system and use ultraviolet light to kill contaminants. They improve air quality by targeting the irritants that can aggravate respiratory issues.
As for allergens, you won't have to worry about a stuffy nose in your living room.
Whole-house Dehumidifier
Finally, we have dehumidifiers. While these units don't clean the air, they're the best option for controlling indoor humidity. Spring in Pennsylvania often means warm, rainy weather. High indoor humidity won't lower air quality, but it's the perfect condition for breeding mold, mildew, and dust mites.
Keeping indoor humidity below 60% is the best way to eliminate these pollutants before they can spread. A whole-house humidifier is the best option for regulating all areas. Between 30% and 50% indoor humidity is the ideal range for health and comfort.
Don't let allergens get you down this spring. Contact us today to find the best solution for boosting indoor air quality. Michall Daimion Heating & Air Conditioning, Inc. has been the Main Line's Premier Service Provider since 1976.