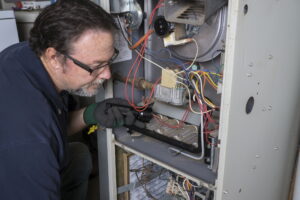 You know that your furnace is going to run into some problems from time to time, such as a blown fuse or maybe a part goes bad. That's all expected at one point or another. But what isn't expected are the uncommon, abnormal repairs you don't hear about all the time.
Furnace repair in Chester. PA means doing whatever it takes to get your furnace back up and running, but it's also important to know the root of the problem and fix that as well. Here are some uncommon repair problems that don't stem from the furnace itself.
Rodents Eating the Ductwork
When it's cold in the middle of winter, rodents look for the warmest possible place they can to hide for the season. What's better than a compact area filled with warm air? They'll seek out your ductwork and chew their way in if they have to.
When they do this, heat escapes into your walls, attic, and doesn't make it to the post it was originally destined for. This is not only extremely frustrating for you as a homeowner who just wants some relief from the cold, but it can lead to big problems.
For one, rodents are in your home. Beyond that, you're spending more money than necessary to heat your home, and releasing warm air into enclosed spaces. Humidity in your walls and attic can lead to mold and mildew growth, which causes massive long-term damage to your structure.
Fan Speed on High
Your furnace has a sensor inside of it that detects airflow. It's there to make sure your fan doesn't go too fast, so it regulates it. When the fan produces high speeds, it ends up cooling the warm air heading through the ductwork instead.
Think about a simple box fan in your home. You turn the blade on, and it produces cool air. Think about how that impacts your furnace–if the fan is too fast, you don't get cool air, all because of a little sensor that fails.
Nearby Water Leaks
We know that water and electricity don't mix, but your furnace produces heat, so it should be safe, right? Normally, you'd be right, but what we're talking about is nearby external water leaks.
If your furnace is in the next room over from your kitchen, or the upstairs bathroom is directly above it, you're in a very specific situation. The water from either of those places can leak for whatever reason, but if it gets into the room with your furnace, it can cause problems, such as destroying the flame sensor.
For Those Odd Repair Requests
While it's uncommon for these problems to happen to you, it's not impossible. You should be prepared to hear just about anything from your HVAC technician when they come to inspect the unit and see what's wrong.
We're here to help you out with the unexpected, whatever that may be. Your comfort is at stake, so let's get that furnace fixed up before you know it.
Contact Michall Daimion Heating & Air Conditioning, Inc. today to schedule your furnace repair as soon as possible.