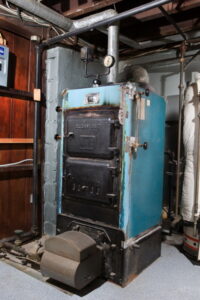 If you have worries about your furnace in Malvern, PA, such as concerns that it might be too old to make it through the winter, now is the best time to face the problem. You don't want to have to schedule an emergency furnace replacement during a freezing day in January, leaving your family shivering (or having to check into a hotel) while the new unit is put in. It's still fall and the right time to make the choice about whether your furnace can get by with repairs or if it needs to be replaced.
You don't have to face this question alone. You have our experienced heating professionals to provide you with expert opinions and service. We can inspect your furnace and give you an honest assessment of its future, then provide the relevant work you need for an easy winter of home heating.
How Old Is Your Furnace?
The best way to start thinking about whether your furnace is ready to retire is how many years it's been in service. A natural gas furnace that has received annual professional maintenance (this is important!) can usually last over 15 years. Electric furnaces can go longer, over 20 years. If your furnace is already above those ages, then the replacement question becomes more urgent and other factors become more important.
Is the Furnace Costing Too Much to Run?
One bellwether for a furnace that's too worn down to keep is when it starts losing energy efficiency and runs up your utility bills. A furnace that's well-maintained should retain 95% of its energy-efficient performance through most of its lifetime and only begin to see a drop-off in the last two years. When you see a spike in your heating costs that isn't connected to an increase in use or energy prices, it's a major warning the furnace is coming to its end.
Understanding When Repairs Are Too Expensive
If a repair for an ailing furnace will keep it running effectively and efficiently for another few years, then it's a good idea to go with the repair—unless the repair is too expensive. How can you tell when a repair is too costly? One way is to look at the expense of getting a replacement furnace. If the repair is more than half the price of the new furnace, the repair isn't worth it. You can also use the "Rule of 5,000": multiply the cost of the repair by the furnace age in years. If the result is more than 5,000, the repair is too steep.
Poor Heating Performance
Finally, if the furnace simply isn't doing its job the way it should (takes too long to heat the house, unevenly heats the house, or poorly heats the house) and repairs aren't changing that, you definitely need to look seriously at replacing it.
We will provide you with the best information when it comes to repairing or replacing your furnace. Make an appointment with us today.
Michall Daimion Heating & Air Conditioning, Inc. has been the Main Line's Premier Service Provider since 1976. Schedule service for furnace repair or replacement today.