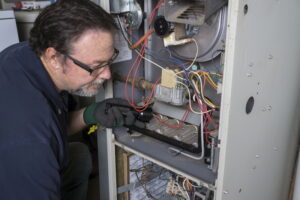 Temperatures have started dropping and it's time to fire up your furnace. When you turn it on, you expect nothing less than for it to heat your home quickly and effectively. But what happens when you run into problems right off the bat?
When your furnace has been off for most of the year, it could be any number of problems. But there's a way to avoid it. Regular maintenance is the key to avoid furnace repair in Phoenixville, PA and maintain your level of comfort throughout the season.
Furnace Maintenance Fixes Problems Before They Happen
Your furnace has a lot of working parts. Each one is subject to failure as stress, wear and tear, and time take its toll. Maintenance helps spot weaknesses in your furnace so you can repair them as quickly as possible.
When one area of your furnace struggles but doesn't completely break down, it increases pressure on the rest of the furnace, which wears down other parts more quickly. A trained technician looks for markers that indicate damage or a strained furnace, then suggests the next course of action to fix the problem.
A Maintained Furnace Keeps Your Family Safe
Your furnace has an air filtration system. This pulls particles, dust, and debris from the air before pushing that air through your home. If you haven't changed your furnace air filter in a while, it's not only making it harder for your furnace to keep up, but more particles will get through.
This reduces your air quality. Beyond air filtration, gas and oil furnaces also run the risk of leaking carbon monoxide into your home. Before you turn your furnace on for the season, it's important to know whether or not it's safe. Cracks or leaks in the furnace can slowly leak carbon monoxide throughout your home by spilling into your ductwork and circulating.
Your Furnace Is More Energy Efficient When Maintained Properly
The more energy efficient any HVAC system is, the less it has to run to achieve the desired output. Less runtime equates to less stress on your furnace, which helps every working part last longer. Energy efficiency is the byproduct of a well-optimized furnace.
You Save Money With Furnace Maintenance
Maintaining the working parts of your furnace is a lot cheaper than constantly replacing them. A lack of regular maintenance means that each element of your furnace runs out faster, leading to expensive and extensive repairs.
While it's easy to look at annual maintenance costs and wonder if you could save money by skipping out, you will end up paying more in the long run during system breakdowns. Additionally, you save money on utility bills because maintenance keeps your furnace efficient and doesn't require it to run as often.
Maintenance Increases Your Furnace Lifespan
You could very well double the life expectancy of your furnace with regular maintenance. It reduces stress on your entire heating system, keeps your home at peak energy efficiency, and preserves your comfort. It's never too late to start a regular maintenance schedule for your furnace.
Contact us today to schedule regular maintenance and keep your furnace in excellent working order.