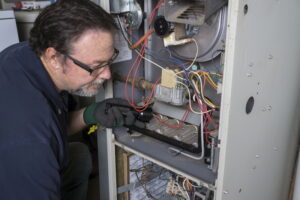 You look to your furnace every time it gets a bit chilly. You fire it up, think nothing of it, and wait for the heat to kick on. But what happens when it… doesn't? Everything seems fine on the outside, but it's just not heating your home up. That's because there's a little component in your furnace that works tirelessly, and it's in need of some TLC.
Sometimes, heating repair in Wayne, PA ends up being a flame sensor repair. Let's talk about this little piece that controls so much in your furnace, and what it means for you and your family's safety.
It's a Safety Component
Your furnace's flame sensor is designed to detect when there's a live flame. If it can detect it, then the flow of gas continues. If not, it shuts down to prevent gas from leaking into the air, then your furnace doesn't work.
If there's an issue with your ignition, and the gas won't light, the flame sensor is there as a measure to protect you and your family. Not to mention keeping your gas bill down. It's a vital part of your furnace's safety equipment.
So What's the Problem With Your Flame Sensor?
When your flame sensor gets dirty, it stops working. Soot builds up and debris can get lodged in the sensor as well. This gets in the way of detecting a live flame, so even if your furnace should be operating as it usually does, it won't be able to.
It all comes down to it being dirty and needing to be cleaned. However, this isn't a DIY-friendly task by any means. Let's explain why you need a professional to help you with your flame sensor because this little piece can be quite tricky.
The Flame Sensor Needs to Be Disassembled and Cleaned
In order to properly clean your flame sensor, it has to be taken apart. Once it's been disassembled, each component needs to be cleaned to remove soot and debris. Then it's reassembled, put back into place, and it should be good to go.
However, this isn't as simple as it sounds. It's an intricate component and requires a knowledgeable technician to handle the task. Once it's cleaned, it should be able to detect a flame with no issue. If it's still having problems, it means that the flame sensor is simply broken and needs to be replaced. It's unfortunate to find out at this stage, but it's always best to try cleaning it before you just replace it.
Let's Keep the Flame Running
You know what your flame sensor does for you, and now it's time to keep it in working order. This little component can cause a big headache without ever presenting itself to you–it just looks like your furnace stops working, but it's often just the flame sensor. Call us today and we'll help you get it sorted as soon as possible.
Contact Michall Daimion Heating & Air Conditioning, Inc. today to schedule your heater repair as soon as possible.