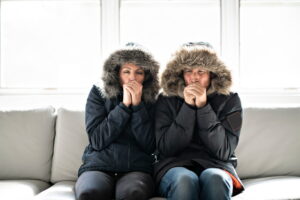 This is one of the worst-case scenarios for your home during winter: a central heating system that stops working, leaving your family in the cold. We know that when this happens you might feel stressed and possibly even panicky. However, help is here, and it's only a phone call away. Our heating technicians offer emergency service 24 hours a day, 7 days a week. We'll be there to fix the problem and get your house and family warm again.
You can also take a number of preliminary steps when a heater suddenly fails. It's possible there's a simple issue behind the problem, and you may not need to call for emergency service. We'll go through a few things below you can do in case of a stopped heater.
See that the thermostat is set correctly
Yes, you may have already done this. But we mention it because in the, ahem, "heat" of the moment it's easy to overlook something that seems obvious. If you have a programmable thermostat or a Wi-Fi thermostat, it's possible an older program set for warmer weather has kicked in. Or somebody changed the settings without telling you.
See that the HVAC system's switch is on
The HVAC system has its own switch located next to it to shut it down for repairs, for a season, or in emergencies. Make sure this switch hasn't been turned to "off."
Check the electrical panel
A loss of power to the house during the day can sometimes be difficult to notice at first. But at this point, since you were already checking the thermostat, you'll know if you had a general outage or not. Check the electrical panel to see if any breakers have tripped; it's common for heating systems to trip the breaker. Yes, this applies to gas-powered heaters as well, which use extensive electronic equipment to operate. If you restore power to the heater with the circuit breaker but it continues to trip, you should call for repairs.
Change a filter if it's clogged
If your heating system is a furnace, it has a filter in place to protect its components. If this filter becomes excessively clogged, it can trigger a limit switch that will shut the furnace down. Put in a new filter and see if the furnace will come on again. (And no matter what, keep up with furnace filter changes every one to three months to avoid this and other problems.)
At this point, you'll need our Phoenixville, PA, HVAC experts to solve your heating problems. Please don't make any DIY attempts. Have everyone put on warm clothing, gather in a room with the most sunlight exposure possible, and wait for the repairs to arrive. If you have space heaters, this is a great time to bring them out (just be cautious that they don't become fire hazards). Or maybe do some cooking in the kitchen, which will warm it up.
Michall Daimion Heating & Air Conditioning, Inc. is the Main Line's Premier Service Provider since 1976. Call us for 24/7 emergency service when you have heating problems.