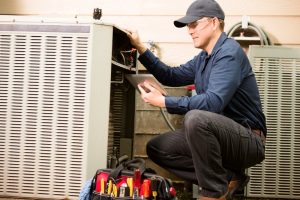 Spring is about to start. For HVAC companies, this is an important time. We don't receive as many emergency calls because it's the period between the coldest time of the year and the warmest time. But we're busy helping our customers prepare for the upcoming heat of summer. People who join our Preventative Maintenance Agreement receive top-quality air conditioning maintenance in spring, and there is nothing better for a cooling system.
If haven't signed up for air conditioning maintenance in Malvern, PA, now is the best time to have it done. Reach out to us and we'll explain all the details and help you get started.
Why Spring AC Maintenance Is Important
Air conditioning maintenance isn't just important. From our point-of-view as HVAC professionals, it's essential. It is at the heart of taking care of an air conditioning system to ensure the best performance and service life from it.
Here is a short rundown of the major benefits of having annual maintenance inspections and tune-ups:
Extended equipment life: The average service life of a central AC system is 10 to 15 years … if the system receives maintenance. The number can drop to half without it. Maintenance gives you the best return on your original AC installation.
Lower utility bills: Because maintenance lowers stress on the AC's components, the system won't gradually lose efficiency and raise the cost to run it. Expect to pay 20% to 40% less on cooling costs over the lifetime of the system when it's maintained.
Fewer repairs: Would you like to prevent 85% of the repairs your AC might need? Of course you would. Maintenance does this, and it catches many repair issues when they're small.
Warranty protection: The AC's manufacturer's warranty can be voided if the system misses out on maintenance.
Peace of mind: Here's a great intangible benefit—not having to worry about your AC breaking down in mid-summer on the hottest day of the year. Getting the air conditioner in solid shape before the heat arrives means there's little chance of a surprise failure.
Other Benefits
A maintenance plan is great all on its own because of how it helps an air conditioner give a house the best in comfort for an affordable cost. But we've included several bonuses as part of our maintenance plan as a way of thanking our customers:
Priority scheduling for emergency calls—you'll receive service before non-members
You'll also receive regular heating maintenance in the fall.
A 20% discount for flat-rate parts.
A flat maintenance agreement fee.
We have a long history—more than 40 years—in the HVAC industry, so we have seen first-hand how effective regular maintenance is for air conditioners and heaters. Our technicians are trained and NATE-certified, so you can expect them to deliver thorough inspections and tune-ups to your AC each spring. We work with all the best brands, and we promise honest communication every time. We are here when you need us.
Michall Daimion Heating & Air Conditioning, Inc. has been the Main Line's Premier Service Provider since 1976. Schedule service or sign up for maintenance today!