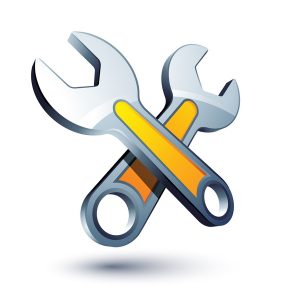 When people ask questions about whether they can do their own air conditioning repair in Malvern, PA whenever their AC starts to malfunction, they're often asking more about how they can troubleshoot an AC that doesn't seem to be working right. Troubleshooting is different from a do-it-yourself repair, and in general, we encourage customers to try a few troubleshooting steps when something goes wrong with their home cooling. This troubleshooting may reveal the problem is a minor one based on a simple error, and it's unnecessary to call for repair technicians.
But if somebody is asking if they can break out the toolkit, open up either AC cabinet and tinker around inside to do full repairs, the answer is a solid no. True air conditioning system repairs need to be left to licensed HVAC professionals. You can trust only a certified and trained technician to correctly diagnose and fix an AC problem.
Troubleshooting Steps
Since you're probably curious now, what are some of the troubleshooting steps you can do when you've got an AC that's not doing its job or isn't doing it as well as it should?
Check the thermostat setting. This may seem obvious, but people often overlook the thermostat as a source of the problem. A programmable thermostat may have accidentally been set to a different program that won't turn the AC on at the right time or will let it run too long.
Check the electrical panel. When the air conditioner fan or compressor won't come on at all no matter what you do to the thermostat, the AC may have overloaded the circuit and tripped the breaker. If you find a tripped breaker, reset it and try the air conditioner again. If the breaker continues to trip, the AC has electrical issues that require professional repairs.
Change the filter. Low airflow and spotty cooling may be the fault of a clogged air filter in the HVAC cabinet. A filter that's been left in place for too many months will become thickly congested and create all sorts of problems for the AC. Change the filter for a clean one; we recommend doing this change every 1 to 3 months.
Clear the outside cabinet. The outside condenser cabinet can pick up dirt, dead leaves, and various obstructions over the winter when the air conditioner isn't in use. This blocks effective heat exhaust and lowers the efficiency of the system. Clear away the area for about a foot around the cabinet.
Check the room vents. Poor air circulation may be the fault of room vents that were inadvertently shut or blocked during fall and winter. Go through all the rooms and see if any vents have been obstructed.
Once you've taken these steps, it's time to reach out to the professionals if the air conditioner is still not working right. We offer 24-hour emergency service and have a team of NATE-certified technicians who'll be out to your house to rescue your cooling.
The Main Line's Premier Service Provider: Michall Daimion Heating & Air Conditioning, Inc. Call us when you need great air conditioning repair.