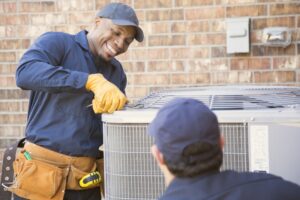 The process of air conditioning installation in Wayne, PA has a lot of steps and processes. Sometimes things can go wrong which is why it's important to know what to look for in the event that you had an AC installed and it's just not working properly.
With a good HVAC company that cares, these problems will be found during installation and fixed promptly. That being said, it's still important to know as a homeowner what they are so you can look out for your own best interest during installation.
Setting Up a Bad Drainage System
Your air conditioner has a pan to collect condensation that happens during normal AC function. This pan fills up, but if it spills over, it can flood components of your air conditioner and cause problems.
Your AC has a condensate draining line that runs from the pan to somewhere outside of the cabinet. This is important because you don't want the water that leaves pooling up around the cabinet and rusting the metal or aiding in flooding it in any way.
But if the drainage system isn't installed properly, backup can leak from your AC into your home. That means it can make your walls, floors, and belongings moist and create the perfect environment for mold to grow. Between that and water damage, a bad drainage system can cause five figures worth of damage to your home. It needs to be installed properly.
Encountering Air Duct Issues
The air ducts in your home can normally be used for your new AC installation (if you're replacing an old unit with a new one). Unfortunately, because ductwork is out of sight, it's often out of mind, so we don't realize when problems happen.
Your ductwork has a certain level of air pressure that it needs in order to deliver cool air throughout your home efficiently. If there are tears in the air ducts or holes from rodents and wear and tear, these need to be fixed, but it's often difficult to spot these prior to installation.
Incorrect Thermostat Placement
The placement of your thermostat matters more than most people think. It's not just for convenient access; your thermostat reads the temperature of your house and then signals to the AC whether it should turn on or off.
If it's in an area that's too close to a vent, or there's not enough air circulation, then it may not read the proper temperature of the house. This just leads to bad AC usage and improper temperatures, leading homeowners to turn the thermostat down lower than they normally would, which brings other problems with it.
Avoid Problems, Go with the Best
With the experience and history under our belt, we've seen just about every AC installation-related problem you can think of. We'll do our best during installation to ensure these problems aren't repeated and leave you with a better AC setup than you had before.
Contact Michall Daimion Heating & Air Conditioning, Inc. today to schedule your AC installation as soon as possible.